Register now to receive these FREE recordings and to be notified about our next Plant Medicine Summit:
Growing Your Own Herbal Medicine: A self-care, home herbal first aid kit in your garden with Chanchal Cabrera
Adaptogens, Herbs for Strength, Stamina and Stress Relief with David Winston

Featured Speakers:
(click photo to learn more)

Dr. Jill Stansbury

David Winston RH(AHG)

Sara Crow

Arjun Das

Acharya Shunya

Michael Tierra

Holly Bellebuono

Dr. Robert Pappas

Dr. Trupti Gokani

Deb Soule

Ron Teeguarden

Margi Flint

Rowen White

Jeff Lee

Tamara Wolfson

Paul Bergner

Dominique LivKamal

7Song

Mary Bove

Dr. Zee Lo

JK DeLapp L. Ac, Dipl. OM

Nashalla G. Nyinda, Menpa TMD

Sajah Popham

Rosita Arvigo

Tish Streeten

Wade Lee

Pamela Fischer

Dr. Robyn Benson

Christopher Hobbs, Ph.D., L.Ac.

Asia Suler

Chanchal Cabrera MSc, FNIMH, RH(AHG)

Peter May

Andrew Gaeddert, RH
With Host: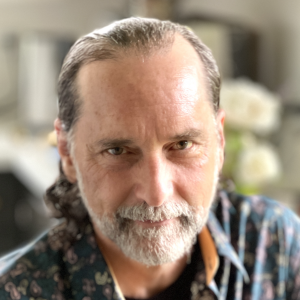 David Crow
L.Ac., Founder of Floracopeia
What if the power to heal was within you... and all around you in the natural world?
Since the dawn of humanity, people in every corner of the planet have used what was immediately accessible to heal themselves — botanical treatments, healing tinctures, and medicinal remedies from the herbs, flowers, and other flora surrounding them.
To be sure, the advances of modern medicine are amazing, even miraculous. Our ability to treat ailments and cure diseases is an inspiring testament to what we're capable of.
However, as we've pursued the new frontier of science and discovery, we've lost touch with the healing power of our environment, and with our deep biological and spiritual connection to nature and plants.
That's why we're excited about The Plant Medicine Summit — a global gathering of leading botanical ecological experts, health practitioners, and inspiring educators who'll be sharing a unique synthesis of medicine, ecology, and spirituality that will transform your relationship with the natural world.
Whether you're new to herbal remedies, essential oils, and natural medicine, or a professional or clinician working with herbs, plants, energy, or the environment, you'll discover new practices and insights for making medicinal herbs, flowers, mushrooms, aromatic ceremonial plants, and essential oils your allies in healing and transformation.
The visionary speakers in this series will bring to light the curative and evolutionary powers of specific medicinal plants — many of which you can grow in your own garden or neighborhood!
Nature: The Source for Our Wellbeing
Take a moment to consider our own Western story of creation... humans were nourished and healed by a completely sustainable oasis. This garden met all of our needs — physical, emotional, and spiritual. It's a beautiful and serene vision that's rooted in our actual history (and myth), where humans evolved in an organic partnership with nature. Living in right relationship with nature was and is imperative, not only for our survival, but our ability to THRIVE.
Today, we have an opportunity to return to the wisdom of the plant kingdom and deeply integrate it into every aspect of our lives.
Plants are wise and sacred allies. All they require is our curiosity and respect for them to reveal their secrets.
In exchange, they heal and restore our bodies, balance our emotions, revitalize our spirits, and awaken our consciousness to new realities.
They help remove toxins and address addictions, anxiety, and depression — and reconnect us with our life force and purpose on the planet.
In this enlightening series, you'll discover that each plant, herb, and flower provides a unique pathway into a more profound relationship with your body, mind, and soul — and, in so doing, each opens up opportunities for greater wellbeing, clarity, and spiritual advancement.
Here's some of what our brilliant speakers are sharing with you...
| | |
| --- | --- |
| | With his 40 years of professional experience as a clinician, researcher, writer, and educator, David Crow brings a unique perspective and encompassing knowledge to each interview and presentation. He is a masterful interviewer, bringing out the best from each teacher for the benefit of his listeners. |
| | Jill Stansbury highlights the many conditions that herbal medicine may treat more effectively than standard medical therapies... helping people to heal in deep and lasting ways. |
| | David Winston discusses adaptogens as the new wonder herbs... which are thought to be effective for treating a wide variety of conditions — increasing our strength and stamina and offering stress relief. |
| | Sara Crow offers information about key herbs and flowers that address common shen (or spirit) disturbances such as anxiety, insomnia, restlessness, PTSD, self-defeating thought patterns, emotional challenges, lack of purpose and focus, and much more. |
| | Arjun Das explores how detox programs are important in helping us release the karmic memory stored in our cells — making room for a healthy journey ahead and promoting a clear and conscious awareness. |
| | Acharya Shunya provides an ancestrally rooted introduction to potent herbs that can be grown in everyday homes and gardens, sharing their traditional uses for self-healing, home remedies, and recipes. |
| | Michael Tierra speaks about kratom — an herb-tree in the Rubiaceae or "coffee" family — known to contain the alkaloid Mitragynine, a known opiate agonist used for treating pain and opioid and alcohol withdrawal symptoms. |
| | Holly Bellebuono reveals how natural plant medicines and foods can promote mental clarity and a good memory… and explores the latest research into how common herbs can keep neurons healthy. |
Discover the Personal, Professional & Planetary Benefits of Plant Medicine
The Plant Medicine Summit series can be incredibly beneficial for ALL — whether you're intrigued by essential oils and Ayurveda or you're a practitioner of natural medicine and Chinese herbs — everyone will deepen their knowledge of the healing and evolutionary benefits of botanical medicine.
Receive insights, practices, and teachings for experiencing the profound benefits of medicinal plants for your health, wellbeing, longevity, and spiritual transformation.
You'll find sessions and speakers that will inspire, educate, and empower you... experts you can trust! They wade through the misinformation and clearly lay out the best practices and reliable resources for this emergent field.
During this groundbreaking series, you'll discover:
Ayurvedic garden herbs that promote spiritual strength and immune enhancement
Key adaptogenic herbs for vitality, resilience and peace
Herbs that support healthy digestion
New research in herbs that can support brain chemistry — helping us strengthen mental clarity and nourish the mind
Ways to incorporate herbal teas, tinctures, and flower essences for relaxation and inspiration
Plants that address restlessness and insomnia
A unique, holistic, indigenous permaculture approach to seed-stewardship
The complexities of quality control in the aromatherapy and essential oil industry
By understanding plants in a multidimensional way, you open up a deeper cosmological view and a more dynamic relationship with the life force of the universe. You cultivate more prana or chi. You harmonize your bodily systems. You can even heal wounds from your past.
Plus, you'll quickly see that working with medicinal plants can complement any existing practice and help you achieve greater fulfillment and success in life — for you and your clients.
You're in good hands with summit host David Crow, LAc., a pioneer who integrates insights and practices from diverse botanical medicine and spiritual traditions, ranging from Ayurveda to Chinese medicine to Buddhism.
Here's what participants had to say about David and last year's Plant Medicine Summit...
I loved the quality and amount of wonderful information that I was able to tap into during this summit. All the speakers were enthusiastic about their particular speciality, and shared some great knowledge. This is a wonderful way of learning lots about many aspects of health and healing.
— Sue, Sydney, Australia
Listening to these sessions gave me a sense of empowerment regarding my body's ability to meet the environmental challenges of our contemporary world, and to thrive, given the right support.
— Abigail Rotholz, Hilo, Hawaii, USA
The caliber of guests uplifted me and gave me a community, as well as a language to aim for. Moreover, the spiritual ideals of health and connecting with plants re-oriented me. I can't thank David and the Shift enough.
— B., San Diego, California, USA
Not only did the interviews in this summit introduce me to educators and pioneers in herbal practices, it gave spark to the areas of knowledge that I am called to seek out further. Thank you David Crow and the Shift Network for making this series available to your followers!
— Tyann, Arvada, Colorado, USA
The presenters were such giants in their herbal knowledge, the depth of their experience with plants and authentic connection to the realms of plant spirit medicine and the natural kingdom.
— Shoshannah Born, Mount Shasta, California, USA
This summit offered a high level of diversity of thought, belief and practice in the field of plant medicine. The presentations were concise and informative. Thank you, David!
— Linda, Mount Pleasant, South Carolina, USA
I found the knowledge, wisdom & advice given by the panel was extremely valuable for the new paradigm shift occurring to living a healthier, happier life in "oneness" with Nature in all its forms. With gratitude.
— Louise Kitura, Edmonton, Canada
Co-Sponsors